Maybe someone else can make sense of this?
I spent last week at a silent meditation retreat in a rural part of Massachusetts. It actually wasn't very silent. People didn't talk, but the place running the retreat is in the midst of an extensive building project, and eight hours a day, directly outside the meditation hall, cement trucks churned and other trucks dropped off gigantic loads of dirt and bulldozers deposited it into...
Bad Company
The two men were standing together outside the coffee shop I go to sometimes. The older man had on ill-fitting red corduroys, the younger man had on ill-fitting jeans and a white cotton t-shirt. He was telling the older man he needed to quit it with all the surgeries - what did he think, that changing his face would be enough to draw women in? The older man seemed discouraged. Yeah, yeah, he said....
The raw material of nightmares
Lately I have been taking an exercise class that involves running across the Brooklyn Bridge extremely early in the morning. It's brutal, at least for me, which makes it particularly hard to motivate myself when I hear the alarm go off at 5:30am. Today I skipped. On Saturday, however, the class starts at 9am, and last weekend I successfully got myself out of bed in time. The class involves...
The good, the bad and the strange
I've been to a few different therapists in my life, and all can variously be categorized as bad (the one who told me I could stand to lose ten pounds), strange (the one with the wand and the therapy dog) or good (the therapist I have now). It is such an odd relationship - he know loads of intimate details about me, but I know almost nothing about him. Does he get impatient with how I get...
Why is it that noone speaks Pig Latin anymore?
When I was growing up everyone in my family called my grandmother "Oma," and while I have had friends tell me they did this too, it has tended to mean they are Dutch or German, while my relatives, other than a few distant strains of the family tree, are not. The source of my grandmother's nickname was actually my grandfather, a physicist with a wry sense of humor who at some...
Game of Thrones for lobsters
Summer is coming.
The Gatekeepers Tavern
I didn't drink much in college. Partly it was because I was too miserly to invest in a fake i.d., but also I just didn't really like alcohol—an early foray into vodka shots proved an incredibly successful prophylactic. On my 21st birthday my two closest friends brought me to the local bar and I took two shots, promptly lay my head down on the table and said I was ready to go home. ...
2013 so far
On New Year's eve I got the stomach flu, though I prefer calling it the "winter vomiting disease," as I saw it referred to in a few alarmist news articles, since this more accurately evokes how miserable it was. As far as viruses go I would give it an A+, assuming viruses judge themselves according to how terrible they make you feel, and how quickly they're able to spread...
Whatever you do, don't stay still
I had a crappy day yesterday, but this morning, walking to the subway, I suddenly felt better. Motion, or forward motion at least, almost always improves my mood. And this is, I think, because one of the things that I am most of afraid of, the sort of common area in the Venn diagram of my fears, is stasis.  I have no idea why stasis should be frightening. It doesn't make sense. It's...
Staying positive
On the upside, the flu has made my New Year's resolution to drink less extremely easy.
When you try to quit drinking coffee the world...
A few weeks ago I was heading into work when one of the street vendors outside my building called me over to his cart. "Hey, are you married?" he asked. This is the same question he asks me every time he calls me over to his cart, which has happened somewhat regularly for the last two years, meaning he has heard my answers go from, "No, but I have a boyfriend," to...
Even more perfect than the perfect storm
A little after the storm made landfall Matt and I decided to walk down to the water to see about the surge. This was not, clearly, what the mayor had recommended—earlier in the day I had been out for a run and almost got blown into a pole—but at that point we'd been stuck inside for hours and curiosity won out over caution. Once we got to Hicks Street we could already see the water. It had...
Back when snakes were cool
This past Saturday Matt and I were walking to our car to drive home from a party when we noticed two people who'd been there trying to hail a cab (and failing), so we gave them a ride. On the way back to Cobble Hill one of them mentioned that she'd left some sort of humane trap out in her apartment because she had a mouse and we all laughed, because, well—"a mouse."...
2012 is at least better than 1845
I wrote about Poe for New York magazine's Scandals issue and discovered that he and his friends seem to have had about the maturity level of 13-year-olds. Incidentally, that was how old his wife was when he married her. Also, she was his first cousin. All in all it made me very glad to live now and not among the catty, tuberculosis-infested New York poets of the 1840s. And then for a travel...
How to start a car service
The cobbler I go to isn't a great cobbler, but he's gentle and sheepish and very nice, so in spite of the fact that pretty much every pair of shoes I've brought to him has been returned to me fixed in superficial ways, but still fundamentally broken, I keep going. Also, the only other cobbler in the neighborhood is a complete asshole. A few weeks ago I picked up a pair of shoes and once I got home...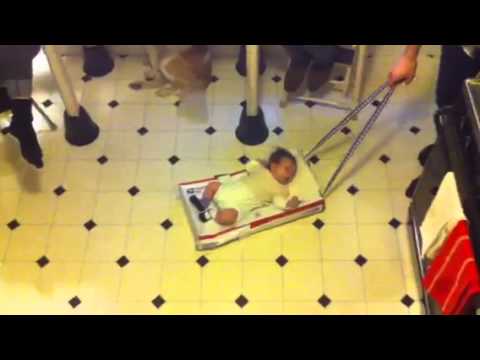 Spies
manabouttown: mollykay: Since our apartment looks out on a bunch of other people's windows, I often get this weird feeling that I'm being watched. SOMETIMES IT IS TRUE. Is this acorn shortage-related? Today was a big day for squirrels outside the window! The above was taken by Molly Langmuir, the below by Abby Manock (via fb). What on earth is going on? I googled "squirrels...
This guy
Since our apartment looks out on a bunch of other people's windows, I often get this weird feeling that I'm being watched. SOMETIMES IT IS TRUE.
All the broken legs
After work I met a friend at a bar and we caught up until, in the middle of a story, this guy came over and asked if he could buy us drinks and talk to us while he waited to go meet his cousin. I'm not sure why we said yes, but for me at least, I was curious. He had said the whole thing in such a funny way, staring off into the middle distance, talking in this flat tone. Like he was...
XXXmas
  It says something negative about my state of mind, I think, that today I mistook the humongous shiny Christmas tree ornaments decorating the lobby of the building where I work for gigantic, larger-than-life grenades.
Taxicab Confessions
It was weird, because the day after I wrote about my silent cab ride home, I took a cab to LaGuardia, and about one minute into the ride, my cab driver told me that his favorite part of his job was talking to customers. And from there, without much prompting, he started in on a discussion of how it could be hard to tell if customers were rich are not—for example, one time this guy in a long...
11/22/11
I finally left the office at 1am, my scarf wet and smelling musty still from when I'd gotten stuck in the rain a few hours earlier—the first time I'd made it outside all day. My brain felt like it had been shaken up, turned upside down and emptied out onto the sidewalk. Which is a strange way to feel after you've spent over 14 hours cramming your head with information. On the...
Seediness
After going over some of my older clips a few days ago (they covered, among other things, the closing of a porn theater, an ex-con MMA fighter, a day in the life of a bunch of gutter punks, and a pervy doll repairman on the Upper East Side) I think I finally came up with a satisfactory answer for people who ask me what my beat is.
Manic Panic
Mirabelle, who came home from Massachusetts this week with a defiant blue streak in her hair, seems to have finally hit those awkward teenage years. I'd like to say we didn't wash it out because we're cool like that, and happy to let the animal who lives with us express herself however she pleases. But the truth is that we've just been busy with other things. Which makes me...
The rapture having come and gone
My ride to work takes me across the Manhattan Bridge, and right at the beginning I can see straight into the Jehovah's Witness headquarters, this tan collection of buildings that takes up about four square blocks. In general I don't pay much attention to them other than to wonder vaguely what goes on there (and, occasionally, what ungodly sum of money that property must be worth at...
105 degrees
Here is how I know that I'm really not lying when I say the heat doesn't bother me much: this weekend the only thing that stopped me from buying a fall-type sweater was that it was about $80 more than I wanted to spend (it was $80).
Making them all your own
I'm not sure why, since I don't much feel like a young bull or an old bull and certainly don't have any interest in making a whole field of lady bulls my own, but this clip (from this 2005 New York Times article by Dan Barber about working for David Bouley) really spoke to me. I guess it could be that, a little bit in the way of Stockholm syndrome victims, sometimes I really do...
I probably just try too hard to group everything...
Celebrity sightings, like all things, come in threes, and one thing I've noticed about things that come in threes is that there are usually two that are mostly the same and then one that is slightly different. This weekend, for example, I saw Erin Wasson and Alexander Wang, but then I also saw Alexis Bledel. Alexander Wang and Erin Wasson are similar for lots of reasons, but most...
Now this is the kind of wedding photography I like...
One way to show you're serious
In Cobble Hill, no less.
The silver lining?
I may not have eaten anything other than a banana and some crackers in the last 48 hours, but on the upside, the stomach flu I got last weekend has left me with a vastly augmented sense of smell. On the subway today, for example, I not only noticed the strong cologne the man next to me was wearing, I also whiffed the unwashed hair of the woman a few seat's down and knew someone else had a...
Rules of the Road
For the pedestrians: This one is apparently hard to comprehend, but the basket on my bike is actually not a trash can. I know the two things have some important qualities in common. For example, the basket is also a metal receptacle, and it too is conveniently located at around waist level. But while I know it can be a hassle to have to carry your garbage around until you reach an actual garbage...
Things I did before work today
-Exercise -Eat breakfast -Meditate -Cook myself a lunch -Start my taxes -Do my laundry So far my theory that my entire life would drastically improve if I just started getting up earlier seems to have been fairly solid.
Free chilling service
Everything really is so much more relaxed when you get out of the city.
1982 had greener grass, I think
Last week I wrote the text for this photo essay in New York magazine about a bunch of different artists' New York apartments from 1887 to now, and in the process did a lot of thinking about a New York that was dirtier, poorer, and more dangerous but also imminently more livable. My favorite picture shows Cindy Sherman in her bathrobe with her blind pet dove. Originally the dove had not been...
On the scale of phobias
Most illogical: Elevators. Just in general, these days, but specifically I am afraid of the elevator at the Clark Street 2/3 stop, which you have to take between the street and the subway. One hot day last summer it was incredibly crowded, and as it inched down into the ground it suddenly occurred to me that not only was I in a suspended metal box crammed so tightly with human beings that no one...
Lonesome Dove
There's certainly something honest and good about a book that doesn't try to pretty things up at all. It's a relief, in a way, how the characters don't necessarily do the right thing in the end, and just because people love each other doesn't mean they're supposed to be together, and how people's feelings, even the good ones, are never purely one thing...
Thank goodness there were no blogs when i was 14
Because my mom is nice like this, a few weeks ago she randomly gave me this little necklace with a picture embedded in it that showed the phase of the moon on the day I was born (and glowed in the dark, too). It turns out I was born under a full moon, which is cool, I think. But the real blessing, I decided, is that I didn't know this in high school, when such a detail undoubtedly would...
$5,670.00
The kind of thing you find stuck to your shoe after a day spent visiting stores on Madison Avenue.
Witch fail
tulletulle: also last night when sophie and i were googling free love spells i got an idea for a moovee During my sophomore year in college two friends and I found ourselves in similarly unpleasant relationship situations with ex-boyfriends from whom we couldn't seem to extricate ourselves. Finally, one night we decided to do something about it and looked up some spells. The one we...
Goonies never say die
Some thoughts on movies I've watched in the last few days (I've been watching too many movies) Tron—This movie is very psychedelic. I liked that Jeff Bridges didn't end up with the girl, that was sort of cool. (Does Jeff Bridges ever end up with the girl?) Also, that now I can finally see the sequel. The Goonies—This is a great movie. My only regret is that I didn't see...
I'm not sure any of this is ethical
I went to the kind of middle school that had ethics classes. I really liked the school, by the way, I feel really lucky I got to go there for middle school and high school and if I'm ever in a position to donate money somewhere I will donate there way before I donate to my college. However, all I remember about these ethics classes is the rumor that passed around about the teacher one year,...
Speaking of my memory
Exhibit A: This past summer I lived in a few different places and after the first week or so, when it became clear that my moving around was going to last at least through September, I decided it would be sort of cool to take a picture of myself every place I stayed. Of course, me being me, I forgot to do this everywhere but one place. But that's not even the real problem. Here is the one...
You can run but you can't hide
I didn't drink much in high school, a rare out-of-character move for me at a time when I was basically trying to do everything I wasn't supposed to as quickly as I could. So it is ironic that in spite of the fact that I smoked whatever I was able to get my hands on, the rumor, a result of my strangely pink cheeks, was that I was an alcoholic. Whereas these days my pink cheeks are long gone but I...
2/22/11
I woke up on Tuesday morning to my radio alarm playing audio of the quake in Christchurch and was about to get up to hit snooze when I remembered that my dad was in New Zealand, and supposed to spend at least a night in Christchurch, although I wasn't sure when. He travels a lot and it is sometimes hard to keep track of exactly where he is in the world, but I knew he was definitely in New...
Safety first!
I was sitting on the subway yesterday zoning out and wondering absently what video game the guy next to me was playing on his phone when he looked over at me. "So you really like bike riding, huh," he said. I wondered if he'd seen me lock up my bike before getting on the train. Or maybe he could just tell I like to ride bikes? Or maybe he was just a little crazy? But then I...
Coping mechanism
You know it's been a bad day when the only thing that cheers you up is seeing that there are a bunch of new trailers to watch on iTunes. That Circo movie looks pretty good. Mars Needs Moms not so much.